Hard and thick cushion
Since a hard and thick cushion is used, the patient's body does not sink too deep and the operator doesn't feel  tired even after a long time spent sitting.
Special seat shape
The seat is of special triangular shape which reduces the pressure on the rear thighs.
Backrest to support the waist
The backrest, with a width and curvature designed to hold the upper part of the waist, not only supports the back but also enables the operator to easily maintain a posture that lightens the load on the waist.
Simple elevating section
Since the existing simple, highly durable mechanism is adopted to the pedal type elevating section, raising, lowering and seat rotation lock can be performed easily and securely.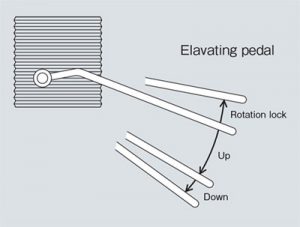 Armrest with cushion
The OC-1A armrest with cushion is slightly inclined inwards so that the arms are placed naturally.
Caster with big diameter and wide width
Casters with a large diameter and width reduce the resistance and enable the operator to move easily.
Stable base section
The base is stablised with five legs and the hydraulic mechanism has a low centre of gravity.